Pride Guide 2012 
Stephan Horbelt & Duane Wells 
5/10/2012 


As summer quickly approaches, one thought on the minds of many LGBT individuals is the litany of Pride celebrations taking place locally and abroad. Why restrict yourself to the fun Pride festivals of SoCal? Put some stamps in your Pride passport by checking out these various celebrations around the world.

LONDON
WorldPride
June 23 – July 8
pridelondon.org
There is little doubt that 2012 is shaping up to be a major year for London! The city will not only play host to this year's Olympic festivities, but also to a splashy series of events honoring  the Queen's Diamond Jubilee—and perhaps most prescient to the LGBT community, WorldPride 2012.
Sponsored by Smirnoff, this year's WorldPride celebration promises to bring together the global LGBT community for two whirlwind weeks, with a festival of art, culture and advocacy, culminating with the WorldPride Parade through central London and a massive street party in Soho on Saturday, July 7. An A-list lineup of top London DJs will join forces with a star-studded collection of talent on parade day for what is being heralded as the biggest Pride event London has ever hosted.
Partying aside, the central theme of WorldPride 2012 will be to call for the global decriminalization of homosexuality, particularly within the British Commonwealth. In keeping with the theme, Pride London will also concurrently host a conference at London's Senate House to discuss the issues facing the global LGBT community today.  At press time, speakers had already been confirmed from countries including Jamaica, Sri Lanka and Pakistan to discuss ways the community can work together to improve the lot of LGBT citizens around the globe.
In other words, it's a celebration with a conscience rather than an unconscious celebration—and that is a good thing.
Stay
There is no shortage of gay-friendly accommodations to choose from for the WorldPride festivities, and many of them are, not surprisingly, in stumbling distance of the city's better-known gay areas, like Soho. One popular destination is the Renaissance Chancery Court Hotel. Fans of the film Love and Other Disasters will recognize this hotel as the place where Matthew Rhys, one of the film's stars, finds true gay love—most appropriate given that the hotel is a stone's throw from Covent Garden, London's West End theater scene and the fabulously gay Old Compton Street. The breathtaking entryway of the Chancery Court Hotel and the property's genuine pearl-studded Pearl Lounge are worth the price of admission alone. Think old world elegance with modern flair and you've got the idea.
Eat
Balans may be a chain, but there is still something quite special about the Old Compton Street location, which starts buzzing early every day (at 8 a.m.) and hums along well into the wee hours of the morning (6 a.m. on weekends) with a jovial and attractive throng of patrons throughout. Pop in early for a Full English Breakfast, stop by mid-day for a martini or a daiquiri, meet up for a quick, light bite with friends before a big night out or get to know your favorite new friends from the WorldPride Parade over late-night cocktails. You choose and Balans will deliver. —D.W.
TORONTO
June 22 – July 1
pridetoronto.com
This neighbor to the north's annual Pride celebration has been in existence in various forms since the late '70s. "Celebrate and demonstrate"—this year's theme—during a weekend of festivities that is truly all-encompassing. Pride Toronto's street fair will be set up in the Church and Wellesley neighborhood all weekend long. The 32nd annual Pride parade will be held on Sunday, July 1, with the Dyke March held on June 30 and the Trans March held on June 29. A true 'LGBT' celebration.
LAS VEGAS
Sept. 7-8
lasvegaspride.org
You're always guaranteed a fun stay in Sin City, but Pride weekend has long been a huge draw for LGBTs around the country. In addition to Las Vegas' near-infinite list of casinos, shows, restaurants and bars, take in some of the desert city's Pride-specific events. On Friday, Sept. 7, indulge in the Vegas Pride Night Parade, featuring LGBT businesses, nonprofits, service agencies and civic groups. After the parade, stick around the Fremont Street Experience for the evening's special entertainment. On Saturday, spend the day at the Vegas Pride Festival, complete with food, drinks, exhibitors and an outdoor mainstage. No one can do entertainment quite like Vegas, so don't miss out on the city's fun Pride festivities.
Play
May 5 saw the opening of the country's first-ever drag queen-staffed bar and gaming venue, Drink & Drag. Situated on Vegas' historic Fremont Street, the bar shares its owner with Krave Nightclub, one of Sin City's longtime gay hotspots. Take in some bowling, billiards, air hockey and interactive games while you're in town celebrating Pride. 450 Fremont St., Las Vegas
NEW YORK CITY
June 16-24
nycpride.org
There's no city in the world quite like the Big Apple, and those looking for a fulfilling Pride experience need look no further. Things kick off with The Rally on Saturday, June 16, featuring well-known performers and motivating speakers, and finish up with a bang at Dance on the Pier, held this year at Pier 57 on Sunday, June 24, where you can dance into the early morning with the Perry Twins and DJ Boris. In between, check out the VIP Rooftop Party; Rapture on the River, an event for the ladies; Pridefest, the annual street fair; and The March, with a list of grand marshals that includes Cyndi Lauper. New York City Pride is a reminder of where the modern gay rights movement began. The very first march was held on the streets of New York following the 1969 Stonewall Riots, a moment in history that is commemorated at Pride celebrations around the world.
Eat
Known as a chic hotspot with delicious food and fabulous cocktails, Chelsea eatery Elmo is popular among the trendy, beautiful, artsy and gay. Our recommendation? Try Elmo during weekend brunch hours (10 a.m.-4 p.m.) and fuel up before jumping into serious Pride revelry. 156 7th Ave., Chelsea
SAN FRANCISCO
June 23-24
sfpride.org
Honor the legend of Harvey Milk by heading upstate to San Francisco and having a blast during Pride weekend. The great celebration takes place at the foot of the city's historic City Hall, where Milk himself once stood and addressed Pride-goers more than 30 years ago. It's the largest LGBT gathering in the nation, with over 200 parade-participating groups, 300 exhibitors and more than 20 stages and venues. The weekend's mainstage has been host in the past to incredible acts like Lady Gaga, Margaret Cho and others. This year's event theme is "Global Equality."
Stay
Treat yourself while in town for Pride weekend by booking a stay at the brand-new Golden Gate Suite at Hotel Palomar. Timed to honor the 75th anniversary of one of our state's most recognizable landmarks, the suite is available through the end of the year. Take in local artist creations, furniture actually made out of the bridge's reclaimed steel, a special cocktail inspired by the bridge and more. The pièce de resistance, though, is the printed opaque decal of the Golden Gate Bridge that expands across the suite's five bay windows. Simply stunning. 12 4th St., Downtown SF.
PROVINCETOWN CARNIVAL WEEK
August 12-17
ptown.org
There's no place on Earth quite like Provincetown, Mass., a gay oasis at the very tip of Cape Cod, the summer home of John Waters and plenty other progenitors of queer culture. But until you've stepped off a ferry or puddle-jumper and actually experienced P-Town for yourself, you'll never fully understand the quaint charm of the village—or why so many LGBTs from the world over return each year for a summer like no other. Provincetown is the only city in the world with such an influx of amazingly talented performers and entertainers throughout the summer—comic and drag legends including Margaret Cho, Ian Harvie, Jimmy James, Lady Bunny, Dina Martina, Varla Jean Merman, Jackie Beat and Miss Richfield 1981 all make appearances throughout the summer, some permanently setting up shop in P-Town for the duration of the summer.
If Provincetown is a place like no other, Carnival is a week like no other. While every day of the year constitutes 'Pride' in P-Town, Carnival Week is a time of debauchery, dancing, drinking and all-around mischief. Each year P-Town is packed to gills during Carnival with visitors from the world over, all ready to indulge in everything the town has to offer—shows, cruises, tea dances and late-night dance parties. While each week in P-Town seems to cater to various subsets of the LGBT community, here's a week devoted purely to the partiers.
Stay
In a village filled with elegant B&Bs throughout, there's no shortage of places to stay, but how you prefer to spend your time will ultimately lend itself to choosing the best accommodations for you. If you plan to party it up at the bevy of P-Town's bars and restaurants, you'll want to consider staying in the middle of town, somewhere not far off of Bradford or Commercial Streets. If you're looking for a bit of respite during your stay—or perhaps want the option to get away from the craziness while nursing your hangover(s)—you may want to look toward the edges of town, perhaps alongside the moors. Staying near the moors also puts you close to the nude beach, for those who plan to get a little sun during their stay.
Play
One fun way to spend your mornings and early afternoons (before hitting up the daily tea dance, of course) is to take a dip at the P-Town Inn, a waterfront resort that features the most fun pool in town. Bring a towel and your favorite swimsuit to the pool and lay out among a truly diverse of Carnival visitors. There you'll hear fun music that has all the poolside visitors pumped up, and you'll have access to delicious eats—the best chicken tenders in town by far—and a bar menu with frozen drinks you had no idea existed. Days spent wasting away at the P-Town Inn can only be described as heavenly.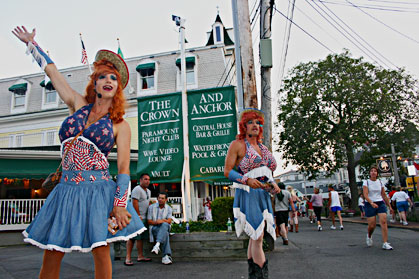 Drink
There's no shortage of places to plop down and have a drink in Provincetown, but any newbie's best bet would be to hit up the Crown & Anchor complex, comprised of three venues in one. First there's The Vault, P-Town's never-a-cover leather bar (akin to Silver Lake's The Eagle), a dark bar that blasts rock music and serves mostly beer to its older and edgier clientele. You'll also find an indoor tire swing and cigar smoking on the patio. The Wave Video Bar plays the songs and videos any pop music-lover wants to hear, and gets packed nightly with a crowd that just wants to dance the night away. Paramount is P-Town's premier nightclub, drawing in some of the world's best DJs to spin for a shirtless crowd nearly every night of Carnival week. This is also the venue for über-popular show Showgirls, a P-Town Monday night staple that features local entertainment, guest stars and anyone who wants to compete for the $500 grand prize.
WASHINGTON, D.C.
May 30 – June 10
capitalpride.org
Our nation's capitol isn't just home to national gay rights advances (and the occasional setback)—it's also home to a fun, rowdy Pride week dubbed Capital Pride. Head to the District of Columbia for 10 days of celebrating our community's spirit and strength. Catch the city's best parade on Saturday, June 9, as it travels through Dupont Circle and ends in the Logan Circle neighborhood. And only at Capital Pride does the annual festival take place on historic Pennsylvania Avenue right in front of our national capitol. Enjoy a full day of music, food, drinks and entertainment on Sunday, June 10.
Drink
While in town, spend your gay dollars at Cobalt, a bar that has been setting the gay nightlife standard in D.C. for years. No matter how you like to spend your nights, there's something for you here—a restaurant (Level One), a lounge (30degrees) and a dance floor level (Cobalt). In the last two years, Cobalt has won Best of Gay D.C. awards ranging from "Best Place to Meet Guys" to "Best Chef" to "Best DJ." Oh, Cobalt also has the sexiest (shirtless) bartenders, and you can never go wrong with that. 1639 R Street NW, Dupont Circle.
AMSTERDAM
July 28 – Aug. 5
amsterdamgaypride.nl
Gay Pride Amsterdam is one of the most fun celebrations in the world. While there's more than a week of amazing events taking place in the city, all major events will take place between Aug. 3-5. Expect street parties, late-night circuit parties and, of course, the world-famous Canal Parade on Saturday afternoon, Aug. 4.
The Canal Parade is seriously a sight to be seen. Watch as 80 decorated boats sail along the Prinsengracht, most filled with sexy men in next to nothing. The parade starts at 2 p.m. and lasts for a couple hours.
Don't expect to get much sleep during the Pride festivities, especially during the last Pride weekend. On Friday night, check out the parties at Reguliersdwarsstraat, Amstel and Westermarkt, which features the Drag Queen Olympics. On Saturday, many of the same parties take place, plus a few more—Bear Necessity, for the bear lovers, being one. A mixed gay crowd attends the Pride closing party on Sunday, which features tons of Dutch artists and DJs.
Shop
While perusing the sights and sounds of Amsterdam, stop into Vrolijk, a multi-level gay and lesbian shop that sells everything from books and films to calendars, gifts and magazines—including Attitude, Butt, Fantastic Manand more. The shop is situated near Dam Square in Amsterdam's old city center, surrounded by historical sites and only a short walk from tons of cultural attractions like HomoMonument, Madame Tussaud's, the Red Light District and the Royal Palace. 135 Paleisstraat, Amsterdam.
COLOGNE
June 23 – July 8
csd-cologne.de
Once again, hundreds of thousands of visitors are expected to fill the inner city streets of Cologne, Germany, this summer. One of the largest gay and lesbian events in Europe, in recent years, more than 1 million participants have flocked to Cologne for the festivals, parade and the many parties.
It's a two-week program of events that culminates the first weekend of July. On Saturday, June 23, Fantasy Pride at Phantasialand kicks everything off. It's Cologne's version of Gay Days Disney, an annual 'gay day' at theme park Phantasialand with performances, live shows and—at night—top DJs.
WomenPride also starts on June 23, which consists of several events purely for women during the weeks—things like readings, film screenings, panel discussions, parties, barbecues, seminars and other cultural activities.
For those looking to get the condensed Cologne Pride experience, don't miss the parade on Sunday, July 8. With up to 120 floats and tons more pedestrian groups, the parade pays tribute to the 1969 Stonewall Riots while also looking forward to equal rights and full acceptance of LGBTs in the near future.
Play
Of all the gay bars in Cologne—there are surprisingly quite a few—you should check out Exile, a gay bar/lounge that gets packed on weekends. You'll find Exile in the center of Cologne's "Bermuda Triangle" of gay bars. Its Frisky Friday party features a mix of Top 40 tracks with club beats, while the Gaily Saturday party spotlights house music. 61A Schaafenstrasse, Köln.
SHANGHAI
June 15-23
shpride.com
Shanghai Pride is China's only LGBT Pride festival, and while it's normally held in October, this year the event's organizers have decided to celebrate a little early. The now-summer festival hopes to bring out more people than ever with its outdoor events, family-oriented Pink Picnic, a poolside party, film nights and panel discussions. (Note: There's no parade at Shanghai Pride, as any public gathering of more than 50 people without state approval is illegal in China.)
Last year's Pink Picnic was a huge success, with LGBTs, friends and family all gathered in Zhongshan Park, wearing pink to show support for the cause. Shanghai Pride's film screenings are supported by foreign consulates. In previous years, Spanish, French and German consulates have hosted screenings, and this year, the British and Dutch consulates are hoped to follow suit.
New for this year's Pride are a closing party barbecue—with performances and a fashion show—and also an open mic night and trivia night.
Stay
It may not technically be completed by the time this year's Shanghai Pride rolls around, but we can guarantee you that in 2013, when its doors do finally open, there will be no place on Earth quite like Mandarin Oriental Pudong. Announced in October 2010, the hotel will form part of "Harbour City," a huge mixed-use development area comprised of office towers, a residential complex, significant retail stores and extensive landscaped gardens. As with all Mandarin Oriental properties, you can expect elegantly styled rooms with countless amenities, but here you're also guaranteed an outstanding view of the city skyline and Huangpu River.mandarinoriental.com
HONOLULU
June 2
honoluluprideparade.org
Celebrate LGBT Pride in paradise on the island of Oahu, now celebrating 22 years. Take a break from snorkeling and sunning yourself on Saturday morning, June 2, to take in the Pride parade, which heads down Ala Moana Boulevard, the famous Waikiki strip, then Kalakaua Avenue, ending at Kapiolani Park. At the park you'll find a free Pride celebration from 11 a.m. to 4 p.m., complete with live entertainment, local and national LGBT organizations, local crafters and delicious food. Spend your Saturday evening at the Pride dance party at McCoy Pavillion, then, on Sunday, get back to your Hawaii routine of doing absolutely nothing. You're in paradise, after all.
Drink
Make Bacchus, the newest gay bar to open in Waikiki, a must-stop during your Oahu stay. Perfect for those looking to lounge and people-watch as opposed to rage on a dance floor, for Cali residents, Bacchus is Wakiki's mashup of a WeHo lounge and San Francisco bar. You'll find an eclectic mix of of gays from the island, a laid-back, friendly staff and strong, reasonably priced drinks. There's indoor seating, outdoor patio space and music videos rotating inside. Treat Bacchus as your 'gay bar home away from home.' 408 Lewers St., Waikiki.
SAO PAOLO
June 7-11
gaypridebrazil.org
Sao Paolo's Pride festival isn't only the largest in Brazil but the largest in the world, with around 4 million people in attendance each year. People around the world flock to Sao Paolo for its Pride month, the must-do event being the parade, which takes place this year on Sunday, June 10. Expect an entire month of LGBT-specific events, though, including the yearly Cycle of Debates, the LGBT Cultural Fair and the successful Gay Day, which happens the Saturday before the main parade.
Play
The Week is an LGBT afterhours party that has garnered international fame as the biggest gay nightclub in all of Brazil. It's a massive venue (64,000 square feet) with two dance floors, a garden, pool, several bars and a VIP area. Only The Week brings in over 2,500 people each weekend, thanks to the high caliber of DJ talent the club draws. The party opens late-night on Saturday at midnight and runs until 9 a.m., with the peak time being around 2 a.m. From November to March, it's sometimes open on Sundays for pool parties. The Week is where you can truly indulge in Brazilian hedonism. 324 Rua Guaicurus, Lapa.
Pride Guide 2012 Calendar
JUNE
The Bingham Cup, Manchester: June 1-3
Tel Aviv Pride: June 3-9
L.A. Pride: June 8-10
Athens Pride: June 9
Boston Pride: June 9
Vienna Pride: June 12-17
Portland Pride: June 15-17
Stadtfest Berlin: June 16-17
Chicago Pride: June 22-24
New Orleans Pride: June 22-24
Barcelona Pride: June 22 – July 1
Dublin Pride: June 22 – July 1
Oslo Pride: June 22 – July 1
Houston Pride: June 23
Lisbon Pride: June 23
Rome Pride: June 23
Berlin Pride: June 23
San Francisco Pride: June 23-24
Seattle Pride: June 24
Helsinki Pride: June 25 – July 1
Eurogames 2012, Budapest:
June 27 – July 1
Madrid Pride: June 29 – July 1
Paris Pride: June 30
Independence Weekend, Provincetown: June 30 – July 5
JULY
Summer Camp, Provincetown: July 3-6
London Pride: July 5-8
Pacific Pride, Santa Barbara: July 7
Bear Week, Provincetown: July 7-15
Munich Pride: July 7-15
Fetish Week London: July 9-15
Frankfurt Pride: July 20-22
San Diego Pride: July 21-22
Belfast Pride: July 28 – Aug. 4
Stockholm: July 30 – Aug. 5



AUGUST
Amsterdam Pride: Aug. 3-5
Vancouver Pride: Aug. 5
Antwerp Pride: Aug. 6-12
Leather Pride, Toronto: Aug. 10-12
Carnival, Provincetown: Aug. 12-18
Prague Pride: Aug. 13-19
Montréal Pride: Aug. 14-19
Copenhagen Pride: Aug. 15-19
XLsior, Mykonos: Aug. 22-26
Manchester Pride: Aug. 24-27
Southern Decadence, New Orleans: Aug. 30 – Sept. 3
Splash Days, Austin: Aug. 31 – Sept. 3
SEPTEMBER
Brighton Pride: Sept. 1-2
Key West Pride: Sept. 6-10
Folsom Europe, Berlin: Sept. 8
Bear Bash, Orlando: Sept. 13-16
Austin Pride: Sept. 22
Folsom Street Fair, San Francisco: Sept. 23
OCTOBER
Black & Blue Festival, Montréal: Oct. 3-9
Gay Days Anaheim: Oct. 5-7
Orlando Pride: Oct. 6
Rio de Janeiro Pride: Oct. 11-15
Atlanta Pride: Oct. 13-14
Hustlaball, Berlin: Oct. 19
NOVEMBER
Get Ruff! Leather Pride, Amsterdam: Nov. 2-4
Buenos Aires Pride: Nov. 3
Palm Springs Pride: Nov. 2-4
White Party Miami: Nov. 21-26