From West Hollywood institutions to hip Silver Lake alternatives, we give you the 10 best gay bars and clubs in LA.
Photograph: Courtesy The Abbey
Best gay bars and clubs in LA: The Abbey
---
When it comes to gay bars and clubs in Los Angeles, options abound. To help you choose from the best bars in West Hollywood, Silver Lake and beyond, check out this list of Time Out's favorite gay bars in LA.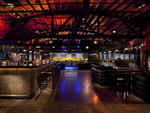 The Abbey is annually voted one of the world's best gay bars. That explains the long lines on the weekends to get into this once humble coffee house that now boasts four full bars and sits on about five times the amount of real estate it originally occupied. The drinks at this West Hollywood stalwart are notoriously strong (they should be at $12 to $14 per) and the upscale, Gothic-meets-the-Mediterranean indoor/outdoor spaces, plentiful cabanas and hunky bartenders are all aesthetically satisfying to be sure. If there's a downside to The Abbey it is actually its success. Not so very long ago, it was the nucleus of gay life in West Hollywood, but as its popularity has grown, increasingly the crowd (particularly at night) seems to be made up of tourists and a hodgepodge of bar flies in which West Hollywood locals no longer feature as prominently as they once did. To its credit though, the Abbey banned 'Hen Nights' and bachelorette parties in early 2012, which helped to shore up its gay street cred among some of the faithful who felt it had overextended itself in its efforts to be hetero-friendly. All that said, make no mistake, The Abbey is the granddaddy of gay bars in Los Angeles and as such it still rules the roost. Other bars and clubs come and go, but, bitch and moan as some may, every gay in West Hollywood still worships at the altar of The Abbey from time to time.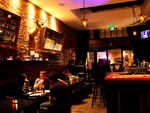 A favorite among locals, St. Felix is as close to a neighborhood bar as it gets in West Hollywood. The wait staff is memorably friendly, the bartenders are expert mixologists and the bar's daily Happy Hour is one of the best bargains on the Boulevard. Always buzzing but rarely uncomfortably overcrowded, St. Felix is the perfect place to go when you actually want to have a conversation with friends over a cocktail after work. No dancers here, just good food and great drinks in a bordello-style setting that keep all the cool kids coming back for more.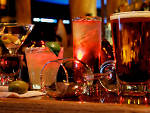 Akbar's retro-style lounge has become Silver Lake's ultimate gay alternative hipster hangout. As such, the crowd tends toward the younger side, drawing from the LA's burgeoning pockets of cool like Echo Park, Downtown and Elysian Fields. Best nights include Promis, a self-described 'new millennium cabaret' helmed by resident songster and piano man Jose Promis; and Mario Diaz's big Saturday dance party Full Frontal Disco, where classic and soon-to-be classic dance hits commingle with boys in bowlers, wearing fishnets and stillettos in the center of the action.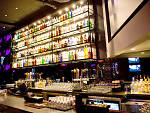 Revolver is a video bar reborn. Several years ago, it went out of business and the space became an upscale gay lounge. But when the lounge folded in 2011, Revolver came roaring back with a new look, better cocktails and, in a nod to the times, strippers on the table tops. The result has been a resounding hit with the West Hollywood crowd, who now pack the relatively small bar to overflowing and often wait in line to get in at peak times. A happy medium between neighborhood bar and megaclub, Revolver strikes just the right note with a simple winning formula that combines good music, familiar videos and an inviting atmosphere.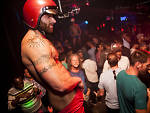 As the WeHo gay bar residing furthest east on Santa Monica Blvd, FUBAR is the most alternative of the Boys Town clan of bars and clubs. Ripped, tattooed and pierced bartenders pour strong drinks in this steamy dark bar that oozes sex seven days a week. Hooking up is always in the air at FUBAR thanks to its underground vibe, so be ye not confused—this is not the bar you go to for a casual drink, this is the bar you go to looking for casual sex. Most popular nights are the Mario Diaz–hosted B.F.D. (Big Fat Dick), which features a contest where patrons agree to have their private parts photographed and be voted on by the crowd at the end of the night (the winning title is obvious), and Dance Bitch! on Fridays hosted by the ever irreverent Billy Francesca.
When Los Angeles seemed ready to give up on leather as one leather bar after another closed, Faultline kept its doors open and embraced the growing bear community. Today, the rawness of the crowd at Faultline couldn't be more different from the trendily coiffed West Hollywood contingent. Ripe with the smell of pheromones and dried sweat, rather than the latest Gucci scent, Faultline prides itself in carrying on the tradition of the "men's bar." So if bellies, beards and tattoos make the man for you, then program your GPS for Faultline. If not, steer clear because this is not a place for lookey-loos…that is of course unless you enjoy playing with the bears from time to time.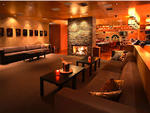 As the newest addition to the WeHo gayborhood, Eleven has the shortest history of the hot spots that made the cut on this list—a fact that speaks volumes about the fanfare with which this multilevel mega-club arrived on the scene a few years back. Popular with a younger, glossier crowd, Eleven's popular nights include nightlife impresario Jeffrey Sanker's Fresh Fridays, the twink-friendly Tigerheat Monster on Saturdays and Musical Mondays, when popular musical numbers from iconic films are splashed across a large screen and a stellar roundup of local talent perform mostly standards and showtunes. An almost nightly line up of jocky, musclebound strippers rounds out the scene at this new WeHo staple. On the downside, the flow of this space is less than ideal, which makes busy nights at the club a bit of a nightmare as bottlenecks are impossible to avoid, the bathrooms quickly reach capacity and drinks become elusive as the crush of thirsty patrons descend upon Eleven's two bars.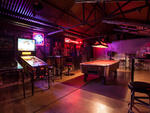 If you prefer beer to cocktails and like your strippers hairy and in harnesses (or some form of leather), then the Eagle might top your list of favorite bars in LA. Formerly known as the Gauntlet II, the Eagle has become the haunt of choice for a cross-section of LA leather daddies, bears and sexy alternative Silver Lake types, all of whom play well together in this dark, sweaty no-frills space that really packs in a crowd on the weekend. Popular monthly events include the bearish Cub Scout, produced by Chris Bowen and Victor Rodriguez, Meat Rack on the 2nd and 4th Saturdays of the month and Mario Diaz's super sexy, extra dirty Big Fat Grunt. (Check the website for exact dates of these and other regular events).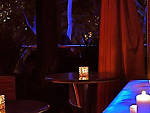 Mickey's is a West Hollywood institution. A few years ago it literally burned down, but it came back bigger, better and gayer than ever… as if it had never missed a beat. The cavernous club has two notable distinctions: Its various stages, boxes and showers are always filled with an abundance of scantily clad boys in every imaginable shape, size and proportion; and it is the only place on the entire boulevard with a regular after-hours that goes until 4 AM on Saturdays. Like other local hot spots that have stood the test of time, Mickey's also has a loyal local fan base, which makes it a premier spot to get better acquainted with the boys of WeHo.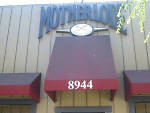 Mother Lode is another one of those West Hollywood staples that has withstood the test of time. In fact this laid back bar built around a pool table and stash of video games has been around so long that it has come full circle: from "it" spot to out of favor to "it" spot again. Thanks in no small measure to the fact that it counterbalances its more stylized neighbors with a low-key, dive bar atmosphere, Mother Lode is experiencing a bit of a renaissance at the moment. Elsewhere in Boys Town, attitude and preening may best define the current posture of patrons, but not at Mother Lode. Here, the vibe, from the bartenders to the crowd, is casual and the only attitude allowed is "friendly."
Honorable Mention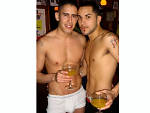 The Roosterfish deserves a shout-out if only because it's the far Westside's only gay bar. Not only that, but this fun little hole in the wall, just a stone's throw from the ocean, has been serving the gay community for over three decades—long before Abbott Kinney Blvd, the street it calls home, was the fashionable address it is today. The staff can be notoriously rude. Still, this gem of a bar attracts a quirky bunch of artsy Venetians and Westsiders of all stripes, making it a refreshing choice for Angelenos in need of a change of scene or who just happen to be hanging at the beach. Hint: The back patio is an excellent option for whiling away a few lazy hours in the sun on the weekends.
Oil Can Harry's is one of the few destinations that even West Hollywood diehards will, on occasion, intentionally venture over the hill and into the valley to experience. Oil Can's is like another world…one that hasn't changed much since the late '80s or maybe the early '90s judging from the décor. Most of the week the bar is filled with guys in cowboy hats enjoying some pretty serious line dancing, but on Saturdays Oil Can Harry's comes alive with Retro Disco Night, where the vibe is pure '70s and the energy is high. A welcome diversion from a night of standing and posing in WeHo, Saturdays at Oil Can Harry's recall a time when going out was more about community and interpersonal communication. More importantly, it's just freewheeling fun.
11502 Ventura Boulevard, between Colfax Avenue & Tujunga Avenue